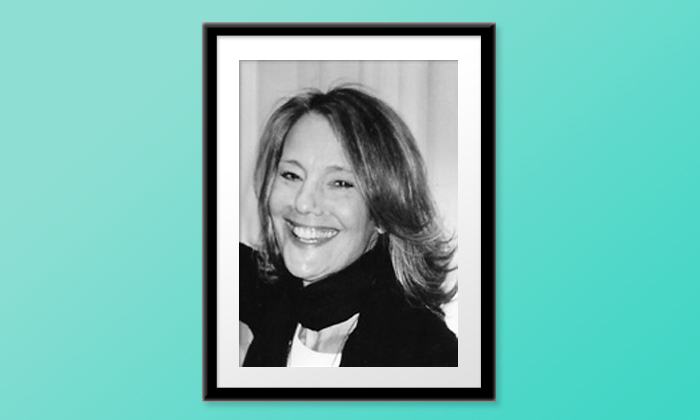 Joanne Roberts is an entrepreneur, you might say a serial entrepreneur, who's been working in the media business for more than 30 years. She's created three successful TV series, run several businesses and worked in new media since 1995. Her focus has been creating programming for kids, teens and women and most recently, she co-founded Now Next Media, LLC with her business partner Peggy Doyle.  They're currently 100% focused on growing WHAT NOW WHAT NEXT, a collaborative network for women entrepreneurs, 40+. Joanne is also the mom of a 16 year old daughter and spends her time juggling the full 360 of work and life.
1. I believe you began your career as a classroom teacher and later segued to television production and still later, the Internet. Can you explain how and why you made these transitions?
You're right Sarina, I started out as a teacher, mainly because of the advice my mother gave me, which was to "Become a teacher, because in case your husband dies or you get divorced, you'll have something to fall back on." In fact, her advice was echoed by society, because when I was growing up, women didn't become TV producers, which was what I really wanted to do. I did however love teaching and even got a Master's Degree in Early Childhood Education. Working on some TV commercials for a charity I was very involved with gave me some production experience and I was "on fire." I decided to segue to production, because it felt so much more creative. I knocked on every door I could, got a job as a production assistant at Universal Commercial Industrial Films and I was hooked.
I worked my way up to becoming a producer on a wide range of projects. Because I was a teacher at heart, I worked for Children's Television Workshop. That was a perfect fit for me. And then I went on to create TV series on my own. Working with a group of talented writers, set designers &  a director from CTW, I started my first company and created a very successful invention game show for kids, THE DR FAD SHOW. We were syndicated across the country and in 20 countries around the world.
The show aired for 5 years, we worked with schools, science museums and even the US Patent Office inspiring kids to invent, create and innovate.
When the series was cancelled, I was devastated. But that led to my starting an internet company way back in 1995. AOL was looking for kids programming that had community outreach. Building on my work with kid inventors and educators I partnered with Enid Karpeh who was working with kid entrepreneurs. We created the KIDZ BIZ INVENTION CONNECTION and with funding from AOL and Ameritech we started a company called Kidsites 3000. We also created one of the largest web communities for teens, plus other web communities for kids, with partners like Nickelodeon, CBS and Netscape.
2. You have produced so many wonderful things, it's hard to know where to start. Do you have a favorite past show or site you'd like to describe? Tell us about it and tell us why it is your favorite, or one of your favorites.
I think the DR FAD SHOW was my favorite, because it launched my career as an entrepreneur. I headed a staff of about 20 people and got very comfortable running my own company, raising money, forming strategic partnerships with station groups and major media companies and really coming into my own as a woman and as an executive producer. Plus the series was really fun and we inspired thousands of kids to create working models of inventions so they could be on our show.
3. Your latest project, What Now What Next is aimed at Gen X BabyBoomer women. Can you describe what it is and what inspired you to create it?  What are some of the challenges you have faced in launching and operating it?  The successes?
WHAT NOW WHAT NEXT is a collaborative network for women entrepreneurs, 40+. It connects women with the tools, products and expertise they need to launch, grow and thrive. We give women a FREE web page to promote and market their businesses, along with the opportunity to post their EVENTS, share their blogposts and build wider awareness for their ventures via our social media.
They can also connect with other women in our community during our new Google Hangouts on Air, plus fill gaps in their knowledge, share their expertise and find new partners and customers. E-commerce is next on our list.
My business partner Peggy Doyle and I created WNWN because as women entrepreneurs ourselves, we also had many friends who were starting and growing all kinds of ventures. We were aware of all the challenges and obstacles, so we decided to create a support structure for like-minded women. We keep adding new tools.
Our biggest challenge is doing everything. There are only two of us and we're producing and writing the site, handling the social media, doing outreach to new members and continuing to provide value for our current members. We're also starting to reach out to strategic partners and raise money/find investors.
We've been quite successful so far. New women are joining us every week, we have 6,500 women engaged on Facebook and our community members are finding real networking opportunities.
4. You were an early Internet entrepreneur.  How do you think doing business via or on the Internet has changed since its early days? Are these changes for the better or worse?
The internet has changed totally. When I started out there were only listboxes and text. No graphics, no video, no Facebook, Twitter or LinkedIn. We were one of the first web companies to experiment with social media and games. There was a lot more opportunity to invent new things and experiment. Not everyone was online. In fact, back then only a few media companies believed in a content model at all. AOL was there innovating first…and now most people think of AOL as a dinosaur. Now every company, big and small has an online presence.
I love the internet and Google and the ability to find and learn new things immediately. And I love having access to any information I need at any time, day or night. But I don't like the fact that everyone is walking around looking at their iPhones instead of at each other. I still like newspapers. And "real" books made out of paper too.
5. What are you most proud of in terms of career accomplishment?
I think I'm most proud of moving from teaching, to producing TV shows and then going on to learn a whole new industry, the internet.
The early days of the web were like the Wild West. We brought our TV production, story telling skills to the table and were able to be completely innovative in a new medium that very few people understood, including us.
We were forced to learn a whole new language in the process & hired kids who learned to speak Java and HTML while they were still in HS and college. By taking risks and going out on a limb we pitched and then created the first online election in partnership with CBS News in 1996. Our candidate was a fictional 15 year old kid, named PHOEBE and she ran again in 2000 in partnership with Nickelodeon. It was extremely satisfying to do things that had never been done before, and do them well.
6. . What is the most surprising result you experienced in your career?  For example is there a product that you thought was a sure winner that did not perform as well as you hoped?  What did you learn from this experience?
 The most surprising think I've experienced is that there's really no such thing as failure. The "failure" of THE DR FAD SHOW led to my success as an internet pioneer creating web communities for kids and teens and now, WHAT NOW WHAT NEXT.
7. What is the biggest risk you have taken in your career?  Did it pay off?  How and why or why not?   What are some of the things you've learned?
The biggest risk I took was moving from the "sure thing" of teaching to the risk and rewards of becoming a TV producer & an entrepreneur and working for myself. Sure it's been scary lots of times….and there have been times when I didn't know if I'd be able to pay my staff, or my  bills, but I've learned that having passion, expressing your own creativity and following your dreams is the way to be really happy in life. And having great partners always helps!
8. We call this blog, Influences and Influencers, who are the people who have influenced you? Have you ever had a mentor? Can you tell us about him or her?  Whose work or input has impacted you the most in your career and how?
I was influenced most by my father who worked in the TV syndication business. In fact, he was one of the people who invented that industry overall. His stories around the dinner table about the deals he made were riveting. Thrilling. Unfortunately as I noted earlier, no women worked in the TV industry when I started my professional career, so I became a teacher. But, my father took me to every NATPE conference when I was a kid and taught me the ins and outs of the syndication business. So, when the TV industry opened its "doors" to women & my time came to be a producer, I had been schooled by a wonderful "educator." 
I also really value the mentorship of Dolores Danska who headed the Broadcasting Division of WCBS-TV. I worked under her at the station producing a daily talk show for women and she believed in me enough as a producer to fund the back-end production of my first TV pilot.
 Dolores really helped launch my career as an entrepreneur!
9. If you could start all over again, what career would you pursue?
I'd choose TV and digital media all over again. I would probably skip the years I spent teaching.