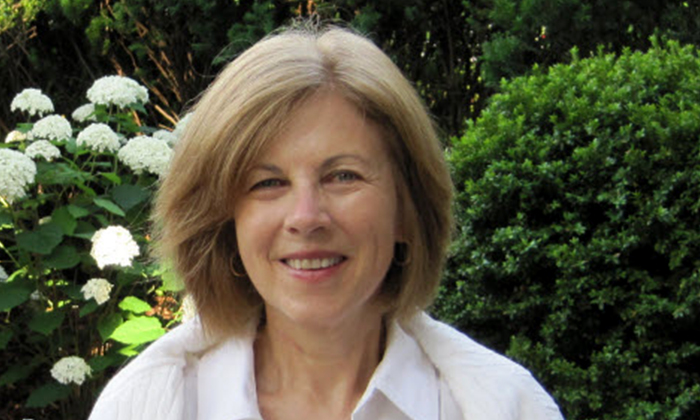 Ginny Rice is an accidental entrepreneur, researcher, problem-solver and designer of programs for education, museums, business, and public information. Her clients have included the National Museum of American History, the Corporation for Public Broadcasting, the Newseum, NIH, Philips Consumer Electronics, and a hôtelier in Vietnam.
1. Your technology roots go back to the early eighties when you   co-founded Lunaria, an "interactive media" company. Can you tell us a bit about the company and how it got started?
My partners and I were working at an R&D company designing medical simulations for a start-up. When the founder ran out of money, we had no jobs and an optimistic view of the promise of interactivity, so we started a company. We were big fish in a very little pond in a great location (Smithsonian, National Geographic, NIH all in our neighborhood) and had a fairly random combination of research, design, education and technical skills.
Our ambitions were to have challenging work, the freedom to be creative, friendship and fun. We had a ball for thirteen years.
2. What was your role at Lunaria and how did it pave the way for what you are doing today?
Lunaria was small—never more than 16 people—so I had several roles. I met with new clients, did audience research, led concept development, and ran the creative team that designed and developed the final product. The term "user experience" didn't exist, but that's what it was.
3. After Lunaria, you went to work for Philips Design, which is internationally known for its human-focused design process. What did you learn from that experience?
Philips Design was an extension of my love for R&D, this time focused on new product design. Philips introduced me to practices and tools that I hadn't seen in the U.S. It was a privilege to work with designers from all over the world who combined creativity and intuition with disciplined thinking and design methodology.
4. Did you work on anything particularly exciting (to you) in the Philips' days? Tell us about it.
Philips was moving very quickly into the Internet, so we were all immersed in large-scale ecommerce and online marketing. I was part of the international team that designed and launched the first corporate website.   (And then there was the website for the Norelco beard trimmer website…)
5. You went from Philips to K12 Inc. one of the very first large distance education "start-ups" which later went public.   Your role was VP of User Experience and Creative Services. These seem like a somewhat odd combination of responsibilities. How would you describe what you did in that position?
It's not as odd as it sounds, particularly since there were only a handful of people at the outset and each of us did what we knew how to do. Initially, I led the team to put a human face on the product we were developing and brought audience needs to the educators, creative team and developers as we created the concepts. As we gave those concepts life and our teams grew at the speed of light, being able to connect the creative team to the real users made us effective and efficient
7. What are you most proud of in terms of career accomplishment?
I'm most proud of the long-standing relationships I have built and the new friendships I continue to develop. Without these people, my brain would be much duller and my life would be much less fun. I think that products and even companies are like grown children—they have a life of their own after they're launched and I don't want to be proud of them or embarrassed by them!
8.What is the biggest risk you have taken in your career? Did it pay off? How and why or why not?   What are some of the things you've learned?
In the mid-80s, Lunaria won the contract to design and produce the interactive kiosks at the Smithsonian Visitor Center—the museum's first large-scale venture into technology for their 3 million visitors a year. Because of the size of the contract and perceived risk, we needed a performance bond, but didn't qualify. To get a bank to stand behind us, my partners and I put up our houses as collateral.
The risk paid off immeasurably in wonderful long-time clients, exposure and credibility, and confidence. (The contract also called for a year of maintenance and, for that year, we appeared monthly to vacuum the insides of the kiosks. )
9. We call this blog "Influences and Influencers." Who are the people who have influenced you? Have you ever had a mentor? Can you tell us about him or her? Whose work or input has impacted you the most in your career and how?
My gifts were those of a free spirit: curiosity, insight, imagination, and an open mind. I struggled to learn patience, discipline and the ability to take the time to really listen. My friend and business partner, Carol Underhill, modeled all that effortlessly. I just copied her until it became part of me. But I have never been as good at it as she is.
10.  Given your skills arsenal, what types of projects do you think might benefit most from your participation? you could start all over again, what career would you pursue?
Design thinking projects, particularly in education for K-12 or institutions like museums and other sources of public learning. (Design thinking tackles innovation by bringing together audience desires, business goals, and the possibilities of media and technology. Practically speaking, it helps an organization makes a vision real, make a leap into a new audience, or develop a new product or service.)
11. If a newbie were to ask you what the most important steps are in creating a good user experience, what would you tell her/him?

Open your mind and put aside pre-conceived ideas, listen without judgment (very hard to do), take time to let ideas percolate, put your thoughts in writing or drawings to get reactions and agreement, test your designs, and be willing to go back to the beginning if an idea isn't working.
12. If you could start all over again, what career would you pursue?
I started out wanting to be a chef and ended up with a career in design. Next time, I might start as a field biologist and see where that went.